by Grace Chen, The Star, Jan 28, 2006
GRACE CHEN visits Fo Guang Shan Dong Zen monastery.
Jenjarom, Selangor (Malaysia) -- THE Fo Guang Shan Dong Zen monastery in Jenjarom, near Banting, Selangor, is a landscape of lanterns and flowers. In the gardens, the trees bend under the weight of pink cherry blossoms, and the tea trees have been sculpted into Bodhisattvas. At seven metres, they are a majestic sight.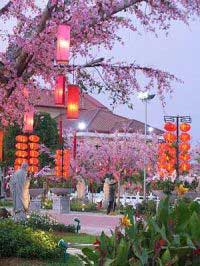 The two million visitors expected will certainly be floored by the work done by the monks, nuns and volunteers on the monastery grounds. Pictures by Fo Guang Shan Dong Zen
As Venerable Man Dao comes to greet me, the first words to leap out of my mouth are: "Are those cherry blossoms for real?"
The 58-year-old nun laughs indulgently and explains that they are artificial. "But isn't the effect spectacular?"
I nodded.
"We set up these decorations so that people will feel the joy and confidence of Buddhism," explains Man Dao.