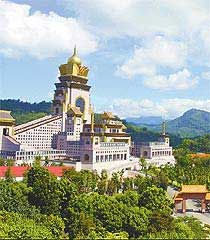 ZEN WORK: Chung tai Chan monastery in central Taiwan is the largest modern Zen Buddhist monastery in the world and took seven years to complete.
The Chung Tai Chan Monastery alights on the landscape of rural Taiwan like a spaceship. A huge gold dome seems to hover in the sky, atop an enormous grey edifice building that looks more modern architectural marvel than monastery.
But this brand new, opulent 37-storied building is home to more than 1000 Buddhist monks and nuns, as well as a couple of hundred lay-people.
The monks and nuns spend their days chanting, meditating, praying and attending to business – spreading the word of Zen Buddhism throughout the world. link