Ithaca Buddhists welcome Year of the Fire Dog
ITHACA, New York (USA) -- With slow, rhythmic prayers, Ithaca's Tibetan Buddhist community rang in their new year Tuesday morning amid more than 50 onlookers.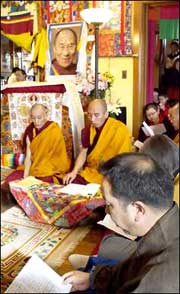 The Namgyal Monastery Institute of Buddhist Studies, housed on Aurora Street, invited the public to its annual celebration of Losar, or the Tibetan New Year. A holiday with both religious and secular roots, Ithaca's version of the tribute included an hourlong prayer ceremony and enough tea, rice and cookies to feed anyone who walked in the doors.
"This is the beginning of the year," said Tenzin Gephel, a monk in residence at Namgyal. "For us, it is important to begin with something auspicious, with special offerings in the shrine room."
Monks, local Tibetans, Namgyal students and curious onlookers all crowded into rows in the first-floor shrine room, where monks sat up front near a colorful altar, covered with food, flowers and butter sculptures, to lead prayerful chants.
A handful of children, clad in bright silks, were scattered throughout the crowd of hushed observers. Tibetans told each other "tashi delek," a New Year's greeting.
link