Dharamshala India -- It was a joyous occasion for all Tibetans, as the people from Tibet are colloquially addressed, who conducted special prayers to mark "Losar" or, the beginning of a new year this Tuesday.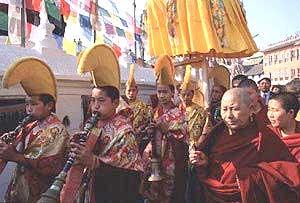 Dressed in traditional colourful costumes, the Tibetans living as refugees in Dharamshala, participated in various religious ceremonies held to pray for the prosperity and well-being of the entire world. It is a significant day for all.
The word Losar has been derived from the Tibetan word "Lo" which means "Year" and "Sar" stands for "New". The celebration of Losar can be traced back to the pre-Buddhist period in Tibet. During this time, when Tibetans practiced the Bon religion, a spiritual ceremony was held every winter, in which people offered large quantities of incense to appease the local spirits, deities and protectors.