By Joseph Coleman, Associated Press, May 20, 2006
Buddhists embrace 900-mile journey

Tokyo, Japan -- Pilgrims in straw hats and white smocks amble past cherry trees flush with blossoms. They mount the stone steps into the cool, incense-laced air of a Buddhist temple and bow their heads in prayer.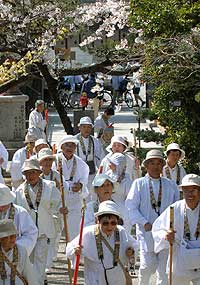 << Associated Press photos
A group of Buddhist pilgrims chants prayers at Ryozenji Temple in Naruto in western Japan. Ryozenji is the first of 88 stops on the annual pilgrimage, a 900-mile journey through mountains and along rocky coastlines on the island of Shikoku.
Ryozenji, or the Temple of the Vulture's Peak, is the first of 88 stops on one of Japan's premier religious pilgrimages, a 900-mile trek through the mountains, craggy coastlines and verdant countryside of the island of Shikoku.
Many of the pilgrims, nearly all of them gray-haired retirees, travel in comfort in tour buses, taxis or their own cars. For them, the millennium-old journey will take two weeks at the most.
But not for Hisao Kitawaki. He's making the arduous pilgrimage the old-fashioned way – on foot.
"I want to take the route through the mountains like the pilgrims of 1,000 years ago," declared Kitawaki, 66, who was making his fifth annual pilgrimage since retiring. He expects the hike to take him about 45 days. read more