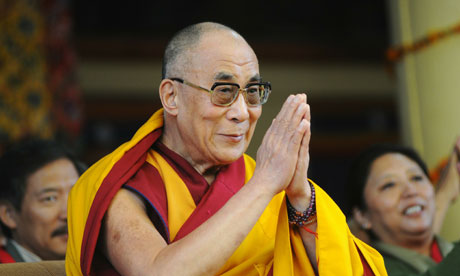 The Dalai Lama's refusal to judge the food on MasterChef Australia is part of the Buddhist tradition of equanimity. Photograph: Strdel/AFP/Getty Images
The reality television program MasterChef Australia made news when the Dalai Lama agreed to appear as a guest judge. But while His Holiness clearly enjoyed some of the dishes – particularly the yummy Sri Lankan vegetarian curry – he refused to render judgments: "As a Buddhist monk it is not right to prefer this food or that food," he said.
Why not judge the food? Maybe His Holiness didn't want to hurt anyone's feelings. It is also an ancient rule for Buddhist nuns and monks to eat whatever food they are given as alms, without judging whether it is tasty or not. And that takes us to the issue of likes and dislikes.
You may have heard the Buddha taught that life is suffering, and suffering is caused by desire. Updated to modern terms, what the Buddha taught is that we're all twitching masses of greed, insecurity and social programming. We hurtle through our lives grasping at whatever we think will soothe our existential angst while batting away whatever hurts us or pushes our ego buttons. And as we do this we cause a lot of trouble for ourselves and for those around us. There is a 6th-century Chinese text of the Chan (Zen) school that says: "To set up what you like against what you dislike is the disease of the mind." Very simply, sorting all phenomena into "like" or "dislike" bins gets in the way of enlightenment.
To be free, the Buddha said, we must first thoroughly perceive the illusory nature of all the things that jerk us around, including likes and dislikes......::continue here